Mediu has selected Amazon Connect as a preferred platform for delivering unparalleled customer experiences!  Forrester recognizes Amazon Connect as a leader in the Contact Center As A Service Wave.  Amazon Connect offers cutting-edge technology and innovative features that align perfectly with our vision to make every client a CX leader.
In 2017 Amazon built its own customer service platform, which the company used as the foundation for its CCaaS offering.  The Amazon Connect platform provides a complete set of CX capabilities, in addition to next generation capabilities and roadmap.
.Although impossible to list every great feature Amazon Connect delivers, Mediu believes it is especially differentiated by the following:
Unlock the true potential of your CX platform with Mediu's expertise across the entire Amazon Connect stack. Our team of experienced professionals will work closely with you to understand your unique requirements and deliver a tailored solution.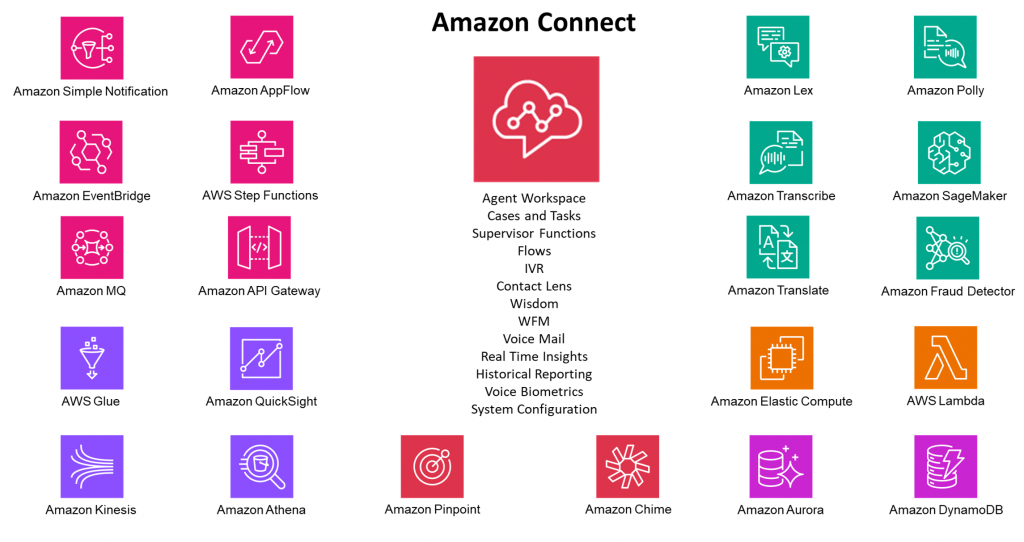 Amazon connect Service Offerings
Mediu focuses on a complete range of Amazon Connect consulting services to companies across all industries.  Our experts have helped more than 170 companies migrate legacy platforms, leverage next CX generation capabilities, and develop innovative applications in the following four focus areas. 
Are you ready to take your customer service to the next level? Look no further than Amazon Connect Migration by Mediu.  Our team of experts will design, develop, and seamlessly migrate your company to Amazon Connect, ensuring that your interactions with customers are nothing short of extraordinary.

Mediu's C3PO (Cloud Contact Center Proven Orchestration) methodology accelerates platform migrations, reduces client burden of traditional implementations, and reduces the risks and challenges commonly associated with adopting a new contact center platform.

Say goodbye to outdated systems and hello to a new era of customer satisfaction.
Natural Language Self-Service
Improve both your CSAT/NPS and containment rates with self-service applications based on natural language.
With our innovative three-phase solution, we're taking self-service to a whole new level.
Containment business strategy
Develop omnichannel natural language applications
Real time self-service feedback loop
Lifelike conversational AI with virtual agents can double your current intent coverage.
Experience the excitement of Natural Language Self-Service today and transform the way you engage with your customers.
Conversational Analytics & Next Best Action
Two next generation CX capabilities that are often implemented in tandem.
Conversational Analytics, the game-changing technology that takes customer interactions to a whole new level! With its speech and chat transcription capabilities, natural language processing, and intelligent search, you'll gain deep insights into every conversation.
From there assist agents with Next Best Action, helping them to understand the context of their customer's intent and leading them to the correct information for the desired outcome. This leads to reduced onboarding costs, improved agent productivity, and higher lifetime customer value.
Mediu unique approach includes:
Agent productivity analysis
Setup and configure automatic categorization, issue/fraud detection, and sentiment analysis
Developing both real time dashboards and historical reporting
Build out the Mediu Agent Compass repository for Next Best Action
The future of customer engagement starts here. 
Workforce Management, the secret ingredient to streamline your agent operations and boost productivity! Say goodbye to scheduling woes and budgeting nightmares with this powerful tool. With cutting-edge technology that is ML-powered, you'll effortlessly forecast, plan, and schedule to meet your strategic goals.


The Mediu Amazon Connect WFM solution consists of:
1) Migrating current WFM data if required
2) Setup and configure forecasts, capacity planning, and schedules
3) Develop KPIs, dashboards, and reporting
4) Annual support to optimize and fine tune


Unleash the power of Workforce Management and transform your business into a well-oiled machine.